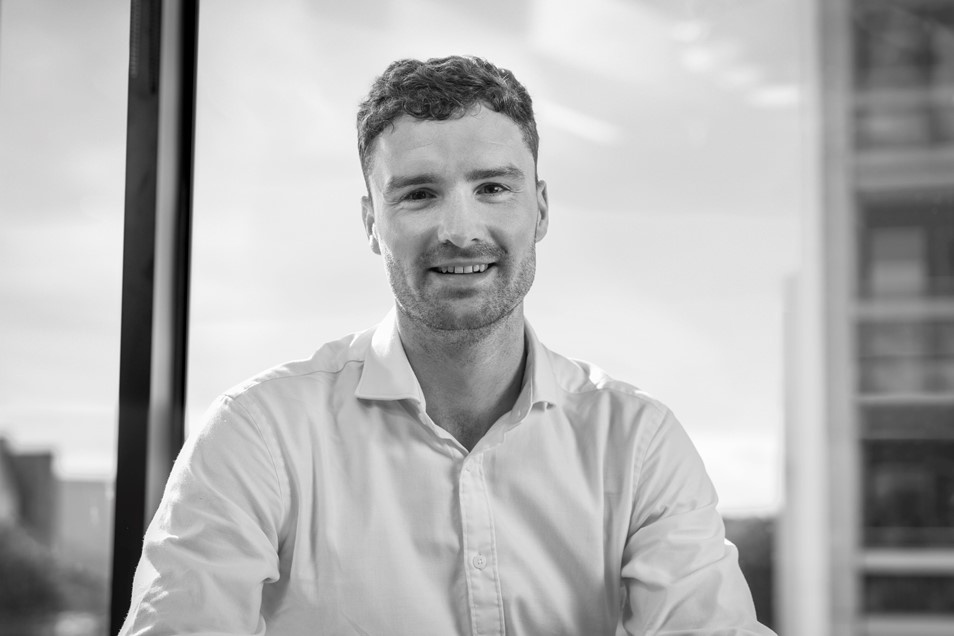 Freddie is a Partner at Syncona. He has been involved in a number of Syncona's investments, including Quell Therapeutics where he sits as an Observer on the Boards of Directors. He has also spent time in an operational capacity within the portfolio heading up operations for Quell during its launch phase. Prior to Syncona he was a member of the Investment Team at the Wellcome Trust, which is responsible for the management of its £32 billion global investment portfolio. Freddie holds a degree in Biochemistry from the University of Edinburgh.
The biopharma sector has been in the spotlight like never before since the onset of the COVID-19 pandemic. There has been an unprecedented public focus on drug development, manufacturing, and regulation. However, what people may be less aware of is that a technological revolution in biomedical research was well underway prior to the global pandemic which has created a wealth of opportunity for innovative, focused and well-funded biotech companies, a trend that is set to continue.
This revolution is being driven by the following factors:
An exponentially expanding scientific knowledge base
A new wave of technologies – genetic medicines
Improved cost and timelines to get drugs to market driven by precision medicine
A supportive and evolving regulatory environment
All of these are converging to create an environment where small biotech companies can credibly develop and commercialise impactful medicines on a standalone basis, without the might of big pharma.
An exponentially expanding scientific knowledge base
Since the completion of the Human Genome Project in 2003 there has been an exponential expansion of our combined understanding of biological pathways and their implication in disease. This has been driven by an expanding primary academic research base, alongside technological advancements such as high-throughput sequencing and gene editing coming to fruition which has allowed large bodies of data to be produced more rapidly and at lower expense than has been possible previously. This increasing knowledge base is being translated into highly impactful medicines by the biopharma industry and given the EU and UK's position as a centre for life science academic leadership (the UK alone has four of the world's top ten universities for medical research), the stage is set for European life science to be at the forefront of these new technologies[1].
The boom in immune-oncology, led by the development of the checkpoint inhibitors, is a good example of how the advancements in our understanding of how the body's immune system detects and fights cancer has led to a wave of therapeutics providing a step change in patient outcomes. Merck's Keytruda led the way with its first approval in 2014 showing a 4-month improvement in survival rates in advanced lung cancer patients over chemotherapy[2]. It is now approved in 16 cancer types and subsequently ten other immunotherapy drugs in the same class have been approved worldwide[3].
These approvals alongside the advent of targeted cancer drugs have been a significant driver of the fall in cancer mortality rates in recent years; in the US there was a decline of 29% from 1991 - 2017[4].
A new wave of technologies – genetic medicines
We are at the forefront of the era of genetic medicines; gene, cell and nucleic acid-based therapies, which are beginning to achieve regulatory approvals (currently 8 cell and gene therapies and 14 nucleic acid-based therapies) and deliver life changing effects for patients, especially in traditionally difficult to treat areas such as rare diseases and oncology[5].
Through gene therapy we are seeing that previously intractable, rare genetic diseases now have lifesaving treatment options approved for use. Approved treatments such as Zolgensma from Novartis/AveXis have revolutionised our approach to treating conditions such as Spinal Muscular Atrophy (SMA), saving lives and providing hope for patients around the globe. SMA is a genetic disease most often impacting children and babies which is caused by a lack of a functional survival motor neuron 1 gene. Those impacted by SMA Type 1, the severest type of the disease, unfortunately have a poor prognosis with the majority of babies impacted not likely to live longer than two years old. In Zolgensma's STr1VE trial, 20 of the 22 patients participating were alive at 14 months of age, a significant improvement on what would be expected without treatment (Figure 1).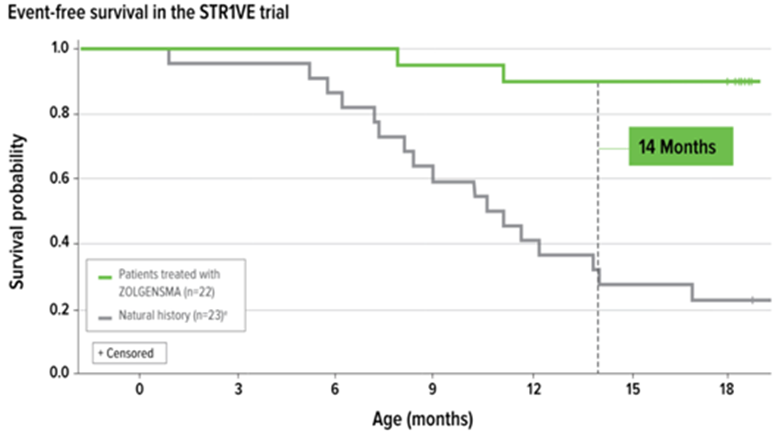 Figure 1 Significant survival benefit in patients treated with Zolgensma. Source: https://www.zolgensma-hcp.com/clinical-experiences/str1ve-trial-efficacy/
Thanks to their curative potential, gene therapy companies, such as Freeline, Gyroscope, SwanBio and Purespring in the Syncona portfolio, are now at the forefront of modern science.
Cell therapy, an area Syncona has developed significant expertise across a number of company builds, is also a technology that is driving this opportunity in biopharma. The field saw significant acceleration after notable success stories such as the treatment of 7-year old terminal cancer patient Emily Whitehead in 2012 who is still alive and well today. In 2017, the FDA approved the first CAR-T cell therapy, Yescarta, for adult relapse/refractory Diffuse Large B-cell Lymphoma (DLBCL) on the basis of profound efficacy – a 3x overall survival rate relative to the standard of care at 12 months[6], and there are now five regulatory approved CAR-T cell products in types of blood cancer and over 500 clinical trials ongoing using CAR engineered cells[7].
Moving beyond gene and cell therapy, we have also seen important advancements in the field of nucleic acid-based therapies. In 2018 the first interfering RNA based therapy from Alnylam Pharmaceuticals in a rare inherited liver disorder was approved. Two further RNA based drugs were approved in 2019 and there are many more promising candidates to come in the pipeline. An analysis from 2017 showed that there were 34 companies developing nucleic acid-based therapies across 158 clinical trials which compares to the level of activity seen with monoclonal antibodies (mAbs) just prior to this technology taking off; in 1997 there were ~20 companies testing mAbs in ~100 clinical trials[8]. In 2019 mAbs made up around 70% of total biopharmaceutical global sales, which came to nearly $163bn[9].
Putting these new technologies to work in areas of newly uncovered biology is producing incredible results for patients and will be a source of investment opportunities for many years to come.
Improved cost and timelines to get drugs to market driven by precision medicine
Another seismic shift in the drug development landscape is precision medicine. Precision medicine is medical care designed to optimise efficiency or therapeutic benefit for particular groups of patients through use of genetic or molecular profiling and has only become possible due to the developments in gene sequence and data collection over the last 20 years.
Clinical trials can now be designed with stratification of patient groups by disease subtypes, clinical features, biomarkers and other characteristics enabling enrichment for patients that are more likely to benefit from novel therapeutic strategies. This has enabled faster development, more capital efficient clinical trials as well as more targeted commercial rollouts for companies. These features, now commonplace in biopharma development, contrast with the traditional and less effective biotech development model which has relied on large pharma partners to run late-stage trials due to the size and capital required to bring products to market and commercialise them.
Many chronic diseases, impacting millions of patients, have genetic sub-drivers which can now be identified through the likes of GWAS[10] studies permitting targeted drug development, lowering the risk of target selection therefore giving companies higher confidence on positive clinical outcomes at earlier stages of development, helping small biotech to compete.
A supportive and evolving regulatory environment
The final piece of the puzzle is regulation. Both the European Medicines Agency (EMA) and U.S. Food and Drugs Administration (FDA) have set up designations and regulatory avenues (Orphan Drug[11], Breakthrough, Priority Review or PRIME[12]) to enhance the speed of review, adapt to the novel sets of modalities coming through development and help shape clinical development paths.
These pathways are delivering results; 28 of the 48 approvals in 2019 received expedited 6-month priority review and 9 (19%) received accelerated approval based on improvements of a surrogate endpoint rather than a clinical endpoint, representing a fundamental shift away from traditional drug approvals in areas of significant clinical unmet need[13].
+++
We are already seeing the above effects play through the development pathway with more drug approvals than ever (Figure 2).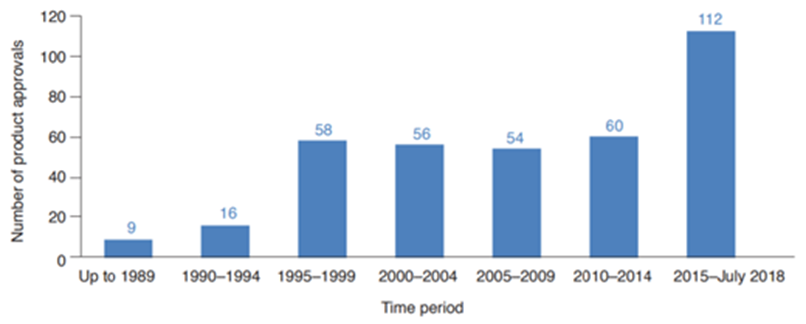 Figure 2 US drug approvals to July 2018. Source: Walsh G. Nature Biotechnology. 2018.
This has also been seen in the monumental achievements by governments and the biopharma industry to bring COVID vaccines through development in a record-breaking timeframe and administer nearly 7 billion doses globally[14]. We believe these trends are set to continue, resulting in hundreds of, initially private, biotech companies being created over the next 10-20 years, generating enormous value in the sector. At Syncona we offer the degree of sector specialism, the depth of long-term capital, and the experience in private biotech markets required to capture this value and pick the winners of tomorrow.
[1] https://www.timeshighereducation.com/student/best-universities/best-universities-medicine
[2] Reck et al. Pembrolizumab versus chemotherapy for PD-L1-positive non-small-cell lung cancer. NEJM. 375,19 1823-1833 (2016)
[3] https://www.keytruda.com/
[4] Siegel, R. L., Miller, K. D. & Jemal, A. Cancer statistics, 2020. Cancer J. Clin. 70, 7 –30 (2020).
[5] https://www.fda.gov/vaccines-blood-biologics/cellular-gene-therapy-products/approved-cellular-and-gene-therapy-products, Syncona team view
[6] https://www.ncbi.nlm.nih.gov/books/NBK552022/
[7] MacKay et al. The therapeutic landscape for cells engineered with chimeric antigen receptors. Nature Biotechnology. 38, 233-244. (2020)
[8] Nature Biotechnology Editorial. The commercial tipping point. Vol 35 No 3. (2017)
[9] https://www.bdo.com/getattachment/92a59a05-185f-4416-a599-7cff17c080f5/attachment.aspx?BPI-The-Therapeutic-Monoclonal-Antibody-Product-Market.pdf
[10] Genome Wide Association Study
[11] Products addressing rare diseases defined as <200,000 people in the US
[12] For products expected to deliver significant improvements over standards, introduced in 2009
[13] https://www.nature.com/articles/d41573-020-00001-7
[14] As at October 2021 - https://www.bloomberg.com/graphics/covid-vaccine-tracker-global-distribution/