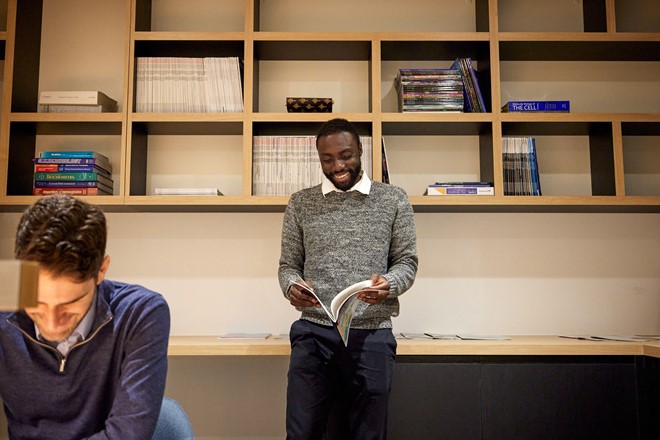 Our purpose to invest to enhance and extend human life is a core part of what attracts the best talent to Syncona.
People with specialised expertise, highly motivated by making a difference, are attracted to our platform and the opportunity to improve the lives of patients and their families.
The life sciences investment team members have deep technical scientific backgrounds, supplemented by strong commercial experience ranging from venture capital investment to pharmaceutical launch and the operational expertise required to found and build companies around exciting innovation. This multi disciplined skill set is fundamental to our business model and the team's track record has resulted in a strong network in life science, enabling the best talent to be attracted to our portfolio companies.
Employee welfare and well being
Career development
We seek to invest in our people and to develop our future leaders. Our structure lends itself to small teams with shared responsibility, allowing junior staff to learn on-the-job with significant exposure to the senior team and senior industry leaders outside Syncona. Team members receive increasing exposure to the facets of the role ensuring progression is attainable and unrestrained.
Working at Syncona 
We believe providing a supportive working environment is crucial to the wellbeing and satisfaction of our team.
Formal benefits
In line with our desire to attract and retain our talented team, the team are provided with competitive remuneration, including a long-term incentive scheme linked to the performance of our investments. Employee benefits include:
Life assurance
Income protection
Pension contributions
Private medical insurance
Family-friendly benefits (maternity and paternity leave, bereavement and compassionate leave)
Syncona is committed to building upon its position as a great place to work for its employees, and over the 2022/3 financial year is specifically looking to improve the family-friendly policies it has in place, with a focus on maternity and paternity leave.
Flexible working
We strive to have flexible working policies that meet the needs of our people and support our business. COVID-19 has enabled us to understand the potential of remote working, and we have been flexible and open minded as we have sought to integrate this into our longer-term working model. A hybrid working model has been in place since November 2021. As part of this, the team are asked to be in the office two or three days a week, depending on their department and business projects.
Emphasis is placed on strong communication between employees and their line managers, underlined by a clear foundation of trust that employees should be able to best manage their time and ongoing priorities.

Mental health and employee assistance
We place increasing importance on mental wellbeing and have been acutely aware of the strains on our people during the COVID-19 pandemic, which has continued to have an impact on the team through the 2021/2 financial year. Along with support structures which are in place at Syncona, team members have access to professional support, as needed, from our private medical insurance providers.

Team engagement
Within the business, there is a culture of open communication across the team. The business benefits from being a c.30-person team operating with a flat structure and a commitment to limiting unnecessary hierarchy. The senior management team know everyone on the team personally and engage with everyone regularly, often seeking input into strategy and providing updates on key business initiatives. This has been particularly true during the 2021/2 financial year, where sub-groups across the investment and broader team have worked together on a number of important strategic initiatives.
The flat structure that Syncona has historically employed has benefitted it enormously in encouraging an open and honest culture within the organisation. Whilst we have looked to introduce new elements of structure to the organisation during the 2021/2 financial year to formalise some processes, this has been done in a way which does not unduly impact our openness as an organisation, which is important for our employees and key to our ongoing success.

Key business initiatives where the team have been engaged and provided significant input has been into:
Integration of our Sustainability Policy into business operations
Updating of key operational policies
Ongoing relationship with Syncona's diversity and initiative partners
Priorities in developing family-friendly policies
Ongoing business strategy planning
The Syncona Board of Directors regularly meets members of the investment team, opening a transparent and direct line of communication. 
Gian Piero Reverberi, the Non-Executive Director who leads employee engagement, and our Chair, Melanie Gee, have met with team members throughout the 2021/2 financial year. We also organised an informal event for the team to meet all of the Board members in March 2022, and particularly to introduce our new Board members, Dr Julie Cherrington and Dr Cristina Csimma, to the team in person.
Equal opportunities and diversity
We are an equal opportunities employer and recruit, promote and reward based on merit. We believe that a diverse and inclusive team is vital to our success and aim to embed these values within our culture.
Gender diversity
We monitor gender diversity across Syncona and we are pleased with the progress to date, particularly in the composition of the Board and the Syncona team as a whole. However we recognise there is more to be done, in order to ensure that we are accessing and supporting as broad a range of talent as possible.
Diversity and inclusion initiatives
We are aware of the positive influence that Syncona can have within the UK life sciences industry in driving positive action to increase diversity within the sector. The underrepresentation of ethnic minorities within Science, Technology, Engineering and Maths (STEM) careers in the UK is striking and it is also a pertinent issue in the venture capital space.

Specifically, we have recognised that research consistently highlights black minorities as being the least represented within STEM and Venture Capital and our desire to combat this trend is reflected in our choice of charitable partners.

Our diversity and inclusion (D&I) approach aims to target the underrepresentation of minorities within life sciences, through partnering with organisations who provide pathways at school, undergraduate and postgraduate level. Ultimately, our aim is to implement a long-term programme which can guide young people through their education and into a possible future career as life science investors.

In doing so, we aim to expose those involved in the programmes to many of the values which drive performance at Syncona, as we aim to build the next generation of data driven, entrepreneurial leaders in life sciences investment.
We actively encourage our employees to participate in our partnership schemes, either as advocates, mentors or buddies, with our D&I strategy also aligned with the goals of the Syncona Foundation.